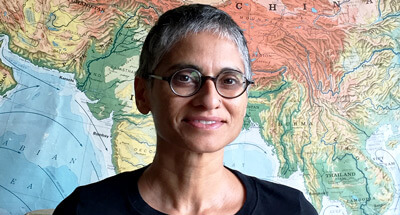 Background
I entered university with the goal of becoming an immigration lawyer. However, after taking sociology courses as an undergraduate student, I changed my mind and pursued graduate degrees in sociology with the aim of becoming a professor of migration. I have no regrets! As an "activist scholar," my involvement in globally active social movements struggling for justice has shaped my research agenda and my teaching. I am an active member of several social movements, particularly the No Borders movement and those struggling for the commons. To these movements, I bring a feminist, anti-racist approach. It is incredibly fulfilling to know that one is a part of making our world a place for all.
Education
PhD, Sociology and Equity Studies, University of Toronto (Ontario Institute for Studies in Education), 2000
MA, Sociology, Simon Fraser University, 1995
BA, Sociology (Minor: History), Simon Fraser University, 1993
Courses
SOC 218: Introduction to Social Problems
SOC 413: Analysis in Economy and Society
SOC 492: Politics of Multiculturalism
SOC 612: Contemporary Sociological Theory
SOC 620: Seminar in Social Stratification
SOC 706: Cultural Analysis
SOC 715: Seminar in Current Issues in Sociology
SOC 725 (Alpha): Seminar in Race and Ethnicity
Research
My research interests address human migration, migrant labor, nation-state power, ideologies of racism, sexism, and nationalism, processes of identification and self-understanding, and social movements for justice.
Community Engagement
I am an active part of social movements for the global commons and in opposition to racist, sexist, classist, and nationalist institutions that socially position some above all others. In particular, I am interested in creating the kinds of consciousness needed to challenge existing structures and cultures and to create new ways of being and acting in the world so leaves no one or nothing out.