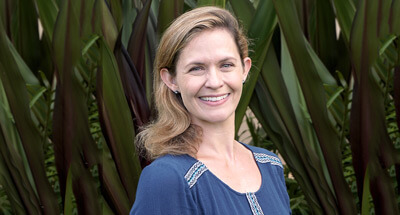 Jennifer Darrah
Associate Professor, Undergraduate Chair
Office: Saunders 235
Telephone: 1 (808) 956-7950
Email: jdarrah@hawaii.edu
---
Browse My Publications:

Background
I am an urban and community sociologist with interests in race, ethnicity, indigeneity, identity, and inequality. My work is motivated by an appreciation for how place—land, neighborhood, community, or home—grounds community, cultural meaning, well-being, socio-economic opportunity and political empowerment. I care about the politics and inequalities that confer the power to shape places, or afford access to quality homes and communities. I pay close attention to connections between race and place: for example, how racism, colonialism, and ethnic inequality structure urban processes, as well as the resistances that push back on such structures. I offer courses in urban sociology, racism and ethnicity in Hawaiʻi, and sociological theory. My sociological interests flow from my upbringing on the island of Oʻahu. I love the students and community at UH Mānoa, and I am also excited to be a faculty affiliate with the Departments of Urban and Regional Planning and Ethnic Studies. Before joining UH, I worked as a post-doctoral research associate at Johns Hopkins University's Poverty and Inequality Research Lab and received training there in cutting-edge qualitative approaches to the study of neighborhoods and poverty. Previously, I also taught in the Social Studies program at Harvard University. My work has been funded by the National Science Foundation, the MacArthur and Casey Foundations, and other local foundations and agencies.
Education
PhD, Sociology, Brown University, Providence, Rhode Island, 2010
MA, Sociology, Brown University, Providence, Rhode Island, 2005
BA, magna cum laude, Social Studies, Harvard University, Cambridge, Massachusetts, 2001
Courses
SOC 301: Survey of Urban Sociology
SOC 321: Survey of Sociological Theory
SOC 401: Analysis in Urban Sociology
SOC 456: Racism and Ethnicity in Hawaiʻi
SOC 725 (Alpha): Seminar in Race and Ethnicity
SOC 753: Urban Sociology
Research
My research lies at the intersections of urban sociology, the study of race/ethnicity/indigeneity, and politics. In Hawaiʻi, I've done research related to local and Indigenous peoples' resistance to high-end luxury housing developments, and more recently I've studied homelessness and affordable housing. In other metropolitan areas (including Baltimore, Dallas and Cleveland), I have studied how access to safe and high quality neighborhoods makes a difference in peoples' lives. My work has increasingly addressed concerns about the regulation and criminalization of homelessness in Honolulu and beyond. Finally, I continue to conduct research on the household choices and perceptions behind persistent racial and economic residential segregation. I collaborate on research with graduate students and especially welcome the opportunity to work with graduate students interested in research and engagement in communities of Hawaiʻi.
Community Engagement
I conduct research that aims to inform public debates on pressing housing and equity issues in Hawaiʻi and elsewhere, and I encourage my students to lend their voices to these debates as well. I have collaborated with state and local agencies and community groups to do research that informs policies related to rental assistance, homelessness, public housing, and housing vouchers. I have also conducted major studies focused on barriers to fair housing. I encourage students in my courses to participate in service-learning programs, especially the Mālama i nā Ahupa'a service and sustainability initiative. I have also been involved as a leader in the UH Mānoa Truth, Racial Healing, and Transformation initiative.