Graduate Student Sociological Association
The Graduate Student Sociological Association (GSSA) was established to provide graduate students in Sociology at the UH Mānoa with professional, social and cultural support, a forum for discussion about student issues, and official representation in the Department of Sociology. The association conducts a variety of professional and social activities among graduate students. Among these activities include orientations for new students, workshops on professional development and teaching, and a wide range of outings and get-togethers. The GSSA is a unique vehicle for current graduate students to help newcomers adjust to life in graduate school and beyond.
---
2022-2023 GSSA Executive Board
President: Omar Bird

Vice President: Jason Mark Alexander

Events Coordinator: Alena Shalaby

Treasurer: Jaeho Kook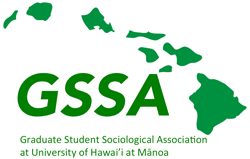 Visit GSSA on Facebook for membership details, event announcements, and other GSSA related information.