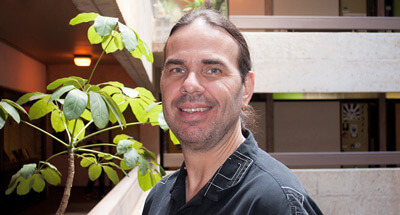 Manfred B. Steger
Professor
Office: Saunders 236
Telephone: 1 (808) 956-7117
Email: manfred@hawaii.edu
---
Browse My Publications:
Background
I have always been passionate about engaging with people of diverse social and cultural backgrounds in a collective effort to make this world a better place. To this end, I have chosen the professional career of a scholar-educator, because I firmly believe that the acquisition and sharing of knowledge can go a long way in improving the lives of all sentient beings on our wondrous planet that is in grave danger of being destroyed by our species' unfortunate actions based on greed, hatred, and ignorance.
Education
PhD, Political Science, Rutgers University, New Brunswick, New Jersey, USA, 1995
MA, Political Science, University of Hawai'i at Mānoa, Honolulu, HI, USA, 1991
BA, Religion and Political Science, University of Hawai'i at Mānoa, Honolulu, HI, 1990
Advanced Diploma, Banking and Finance, First Austrian Bank Business College, Vienna, Austria, 1984
Courses
SOC 321: Survey of Sociological Theory
SOC 413: Analysis in Economy and Society
SOC 455: Sociology of Religion
SOC 611: Classical Sociological Theory
SOC 612: Contemporary Sociological Theory
SOC 715: Seminar in Current Issues in Sociology
Research
My research focuses on the central role of ideas, beliefs, language, images, and other symbols in shaping the discourse on globalization in both academic and public arenas. Firmly committed to a transdisciplinary approach that crosses the artificial boundaries separating the social sciences and humanities, my internationally recognized scholarship brings together geographically and methodologically disparate forms of sociological inquiry. I have also made major contributions to the formation of 'global studies' - a new field of academic inquiry organized around the study of the major social, political, and cultural dimensions of globalization.
Community Engagement
I have served many academic communities on four continents in a variety of leadership roles that include administrative positions, editorial guidance, and mentorship to both students and faculty. As an active member of socially engaged NGOs such as Doctors Without Borders and Greenpeace, I seek to contribute to global efforts to alleviate suffering. In addition, my community engagement focuses on providing spiritual guidance as a Zen Buddhist meditation teacher.